Not a surprise, we are called to serve others. We can point to numerous places in Scripture. A couple examples:
John 15:17, Jesus said, "This I command you; that you love one another". 

Matthew 25:44, where it says, "Lord, when did we see You hungry, or thirsty, or a stranger, or naked, or sick, or in prison, and did not minister to You?" Then He shall respond to them by saying: "Amen I say to you, whenever you did not do it to one of these least, neither did you do it to Me".
We need to see Christ in all and be Christ to all. You're hard pressed to meet anyone who serves those in need who doesn't feel strongly that they're being ministered to more than those they're serving.  
I read once that if we decided to, that the United States in of itself, could solve for world hunger. I've been challenged on that in saying it during speaking engagements. I believe it to be true based on the source, but regardless, here's the question.  What are we doing, you and I, to solve for hunger our in our neighborhoods?
The types of hunger could include: 
Physical

Financial

Emotional 

Spiritual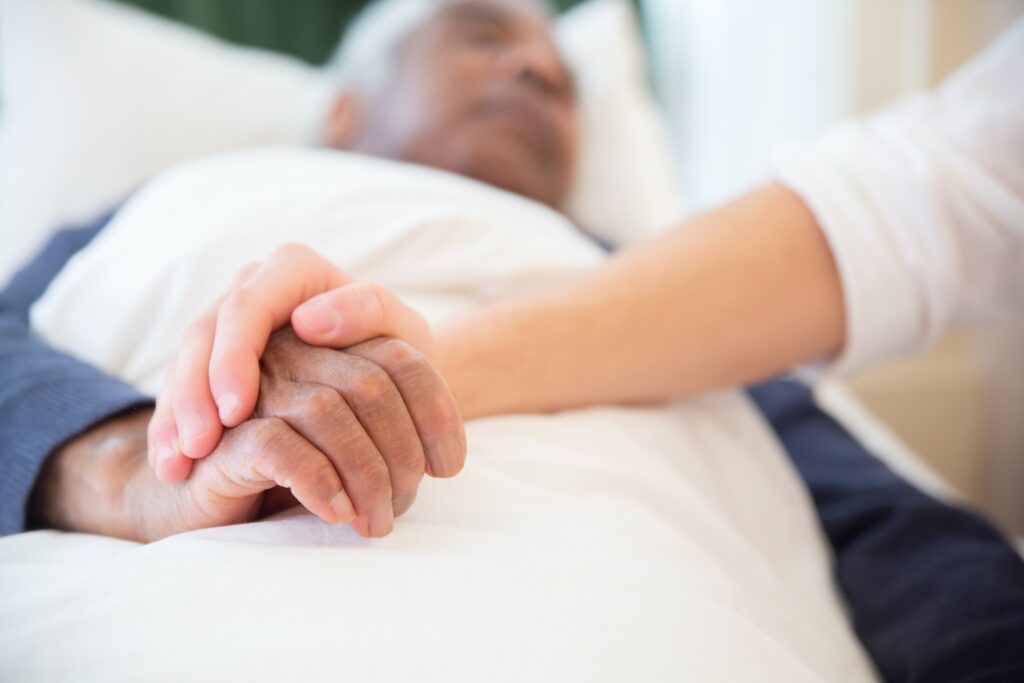 There are so many opportunities to serve. Did you know that more than 50% of those in nursing homes are never visited? That's pre-COVID stat. What do you think it is now? Our mothers, fathers, siblings, and friends. So many people are broken. Our kids, our neighbors…people seeking the love of Christ, whether they know it or not. 
There are so many opportunities to show the love of Christ to others. We live in a culture that loves things and uses people. We are called to use things and love people. 
Seeing the Face of Christ in Others 
Just before COVID, I went on my first mission trip to Haiti. Being good friends with the President of Life Teen, an organization that serves close to 2,000 Parishes and their youth ministry programs, about 20 of us stayed at Life Teen's mission base. 
I have trouble sleeping when I'm in my bed and in my house. I'm not an outdoorsman…never camped in my life. In Haiti, I was among 12 other guys, with netted beds to keep the mosquitoes off us. On a concrete floor, critters were scampering back and forth…not sure what they were.  
The cold showers were very cold. The food, although interesting and tasted ok most of the time, I ate little of because of the conditions I saw it being prepared in. 
We did work on the mission base and out in the community. I experienced poverty that I had never witnessed before. People live in deplorable conditions, with no electricity or running water. With no means of disposal, garbage was everywhere, and I mean everywhere. Everyplace we went, there was a stench that I never experienced before. Roads were almost unnavigable. No paving. Huge potholes every so many feet, and parts of roads washed away. 
My primary take-aways:
It's incomprehensible that there's so much poverty in our backyard…no more than 2-hour flight from the US

I've never seen so many people smile so much. The Haitian people, poorer than poor, living in huts, with no running water or electricity, are joy-filled people. It's amazing. It's incredible to see. 

I came home convicted that I needed to start serving those in need in some capacity. 
I've allowed COVID to get in the way. Given what I saw and given where I am on my faith journey, I need to do this…working with those in need. I have failed to date, which I'm not proud of. My wife and I have talked about it. We need to do it. Please pray for us. 
I hope in reading this you'll consider doing the same….seeing Christ in others. 
As always, please email me at [email protected] with questions, concerns, comments, or prayer requests. 
God Bless you on your Path to Peace, Joy, and Fulfillment!!!
Remember…God made you for Greatness!!!
Mark Joseph