FIND YOUR PATH
TO PEACE, JOY, & FULFILLMENT
You're Overwhelmed…
You've been trying to keep up
in this very busy world,
Endeavoring to meet your
goals and others' expectations.
You're dissatisfied and discouraged…
You deserve happiness.
You Are Not Alone…
I Was There Too…
I spent years where you are,
chasing things that couldn't
make me happy.
Having someone come along side me,
I learned how to change my life.
YOU CAN OVERCOME
AND LEARN TO LIVE
THE PATH TO PEACE,
JOY, and FULFILLMENT…
The truth is you don't
have to be overwhelmed…
God made you to do great things!
You no longer have to
fall for the world's answers.
Mark's Ministry
I've experienced this in my own life. I see it among my family and friends. We're running ourselves to death, always searching for more because we think this is the only way to maintain a toe-hold in the world. Because we're trying to create our own fulfillment, we end up
surrounding ourselves with superficial relationships; not truly investing in one another
setting unrealistic goals
working exhausting schedules
trying to fill the void with all sorts of things we don't need
I've been incredibly overwhelmed in my own scramble for success and fulfillment. I know what it's like to feel trapped beneath the burdens, to try to fill the infinite God sized hole in the center of my chest. I've suffered extreme loss and come to the brink of despair.
I made the transition and so can you. There's nothing special about me. Coming out on the other side of some significant tragedy, I learned lessons that changed my life forever. I'm no longer overwhelmed. I was blessed to have found the path to peace, joy, and fulfillment that escape so many.
Being overwhelmed afflicts just about everyone in our fast-paced world. Whether married or single, with kids or not, empty nesters,
beginning or advanced in your career, a student or retired, wildly successful or just getting by, we all know what it's like to feel
overwhelmed.
Not only do things move very fast in today's world, but we're always connected. There's no downtime. We have more things to do
and less time to do them. Often stressed with the day's tasks, in the background we have concerns over:
our careers
our compensation
the needs of our families
funding of college
planning for retirement
paying for houses, cars, vacations
the kids' activities or our hobbies
how to maintain a standard of living or get ahead
There's lots of pressure, lots of stress, and little time to relax. You may be dissatisfied and discouraged. You wonder what your life's
purpose is, what life is really supposed to be about. You wonder if anyone else feels this way. There's no end in sight. There's nothing
that you've found to correct for the chaos. You aren't happy, and certainly aren't fulfilled in your life.
The choice is up to you. Like anything that's worth achieving, it will take work and some changes, but I promise you…it will be worth it. It will be a journey. You'll learn why you are the way you are and how to improve things.
Moving past overwhelmed doesn't mean all of your problems will disappear. But as you implement the changes in your life, I promise that you will be able to handle problems in a way that you've never thought possible.
You'll experience a freedom that you've only dreamed of, a conviction to your life's purpose, and the overwhelming (no pun intended) sense that you are made for greatness.
Find your path to Peace, Joy, and Fulfillment. The rewards will be life-changing.
It's never too late to start being the person you want to be, the person God designed you to be.
I look forward to accompanying you on this journey:
On this Website
With my Blog
On Social Media
Free Resource – Going from Overwhelmed to Fulfilled

(Order now for free)

My Book, which is being released in September, 2018
Speaking Engagements
About Mark
I had a great upbringing, the oldest of four boys to two loving parents. Married right after college, we had three kids in six years. I bought a business at 27 and grew it moderately over 10 years before hitting the proverbial homerun.
Although things looked good from the outside, I was never satisfied. I was chasing the American dream. I was incapable of living in the moment, always pushing for more, striving for what I hadn't already achieved. The pace crowded out the peace.
I then suffered significant tragedy, where I was literally forced to my knees, in need of real help. Not looking for it, quite unexpectedly in March, 2006, I experienced the unconditional love of God our Father. My journey began there.
Having become passionate about my faith, I felt a real call to leave the commercial world to go to work for the Catholic Church, joining Franciscan University of Steubenville in 2012. Running its conference office, I get to serve on a team which shares the love of Christ with tens of thousands every year.
Given what I've learned and how the message resonates with so many, all by the grace of God, I've become committed to helping others.
I've written a book, which was published in August, 2018, and launched this web site. I blog, speak, and work with people who are overwhelmed by life to understand that they are made for greatness, coaching them through the process that leads to peace, joy, and fulfillment.
Mark is married and has three adult children, two son-in- laws, and a granddaughter. He and his wife live outside of Pittsburgh, PA. Mark's passions are faith, family, and fitness.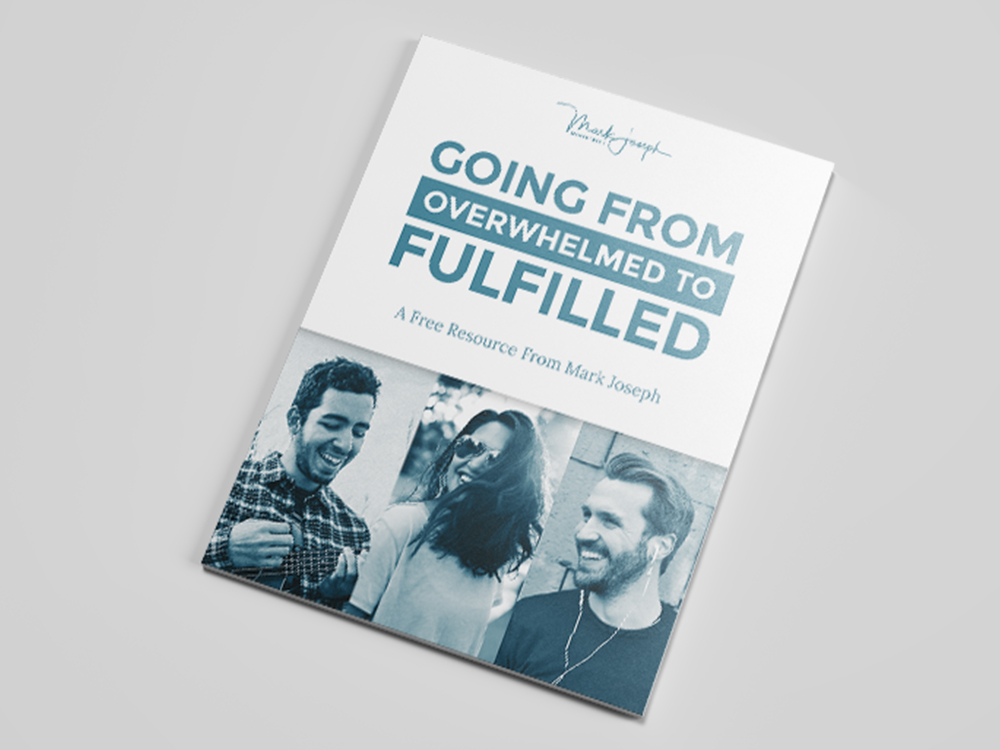 FREE E-BOOK!
Going From Overwhelmed to Fulfilled
Most of us are overwhelmed. We all want to be happy, to be fulfilled. This 7-page resource indicates why we are the way we are and details how to achieve the path to peace, joy, and fulfillment.
Sign up for emails from Mark Joseph Ministries and receive the FREE e-book, Going From Overwhelmed to Fulfilled instantly.
Blog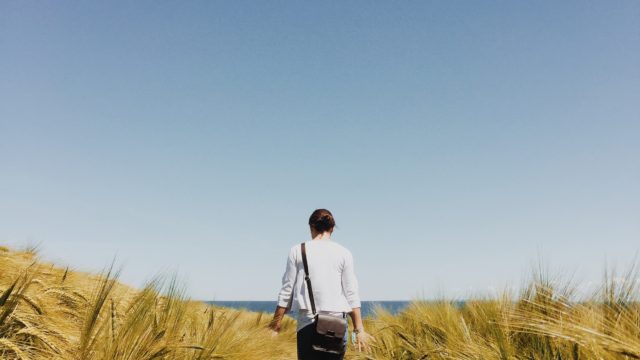 Do You Need an Attitude Adjustment Too?
Are you a "glass half full" or "glass half empty" person? Are you more apt to see the positive in things or the negative? Are you easily deflated, brought down...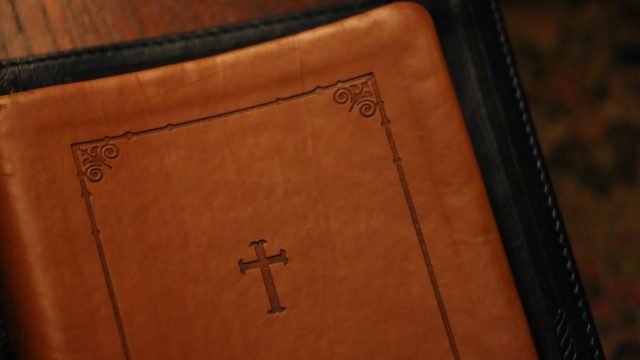 Who Needs Prayer…I Do
Do you spend time in prayer? Do you do it on a regular basis? Why do you pray? Is it for you? Is it for God? Is it helpful? Will...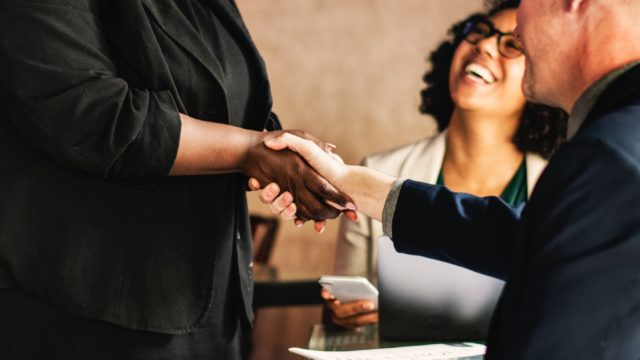 How Do You Deal With Conflict?
When's the last time you had a disagreement with someone? An argument? Or maybe you were really challenged by what someone did or said, but kept it to yourself rather than...

SPEAKING
Mark speaks on many topics, which include:
Going from Overwhelmed to Fulfilled

The Path to Peace, Joy, and Fulfillment

We are All Made for Greatness

Understanding and Living God's Unconditional Love

How to be All That God has Called Us To

Our Men are in Crisis

Success to Significance

Overcoming the crisis of Leadership

Conquering Fear

Finding Peace in our Lives

Making Disciples starts with Authentic Friendship

How to Grow our Parishes and the Church

Addiction, a Family Disease

Mark's Testimony
Mark can also customize his content to the desires of the event organizer.